Employee engagement through the lens of motivation
With only 13% of UK employees stating that they are actively engaged at work and with more than half the population now needing to work from home, there's never been more important time to get employee engagement right.
According to the CIPD, employee engagement comes as a result of several factors including:
personality (self-confidence and resilience)

job design (job demands and resources)

leadership and management

organisational climate or culture

management practices
At the heart of each element is motivation. Motivated employees take the steps to become resilient. They have self-confidence and high levels of self-esteem. Motivated employees are those whose job role fits well with what drives them and they understand why they are doing what they are being asked to do. Motivated employees step up into their leadership and aren't waiting to be told what to do. Motivated employees understand how their behaviour impacts on organisational climate and culture and they contribute positively to shaping this crucial, intangible aspect of performance. Motivated employees build and develop 'fit for purpose' practices, and challenge those which no longer serve a purpose.
And yet, motivation is little understood by many organisations. It is still seen as the invisible driver. This means that despite the many impressive efforts being made by organisations to increase levels of employee engagement, the seemingly illusive ingredient of motivation is not being harnessed.
We work with clients to understand what they have in place already in the area of engagement and then reinterpret them through the lens of motivation.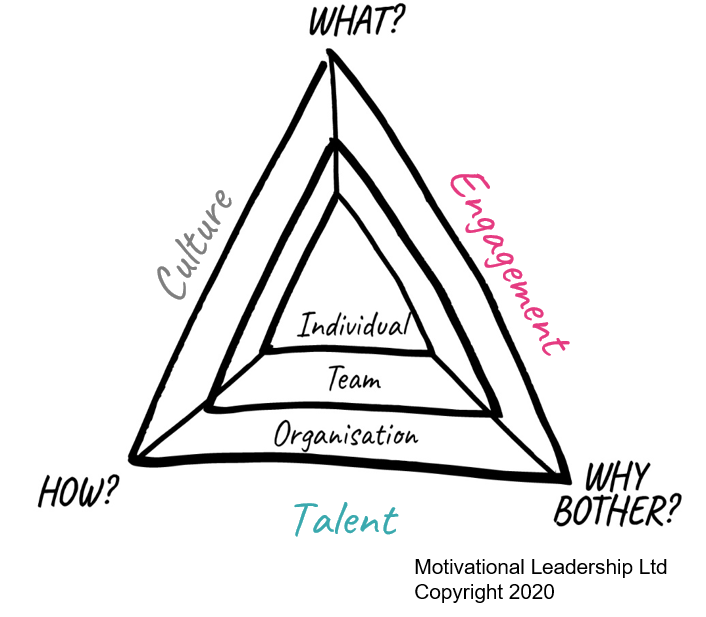 Our interventions can be as simple as training your teams to become Motivational Maps® practitioners, to working alongside you and your business to embed motivation throughout your engagement programmes. Motivational Maps® are a great way to show you are listening, measuring and acting on this importance aspect of engagement. Our CREATE Motivation model is central to our work on engagement - find out more here.
In working together we can share our experience to help you:
Understand what drives teams and how you can better align their efforts in a sustainable way;

Be able to focus on aligning individual purpose to team's purpose and ultimately organisational purpose;

Enable employees to feel a sense of purpose in what they truly believe and therefore give their best to the organisation as a whole;

Nurture a sense of sustainable energy to allow employees to continue performing at a high level;

Be able to focus on the dynamics that emerge by having conflicting motivators, and specifically how to turn this into a positive.
Results organisations can expect from our approach include:
Reduced staff turnover

Reduced spend on recruitment

Increased staff retention

A more engaged and productive workforce

Reduced absenteeism

Increased levels of discretionary effort

Increased employer and customer reputation

A more energised team all pulling in the same direction.
To find out more, contact us.