Culture eats strategy for breakfast
We know that culture is the 'how' of any organisation. And in fact, a large part of an organisation's reputation derives from their how; how they treat their customers, how they work with suppliers and how they work with their people. Given the widely accepted perception of culture change is usually about 'how things are done around here,' we know that culture change is about changing behaviour. We also know that to making cultural changes stick, you need to capture the hearts and minds of people and that means harnessing motivation.
We work with organisations to help them identify what drives behaviour and what makes that behaviour stick.
Our goal is to help to harness the collective 'how' of an organisation to align it to the organisation's purpose (their 'why bother') and strategic deliverables (their 'what').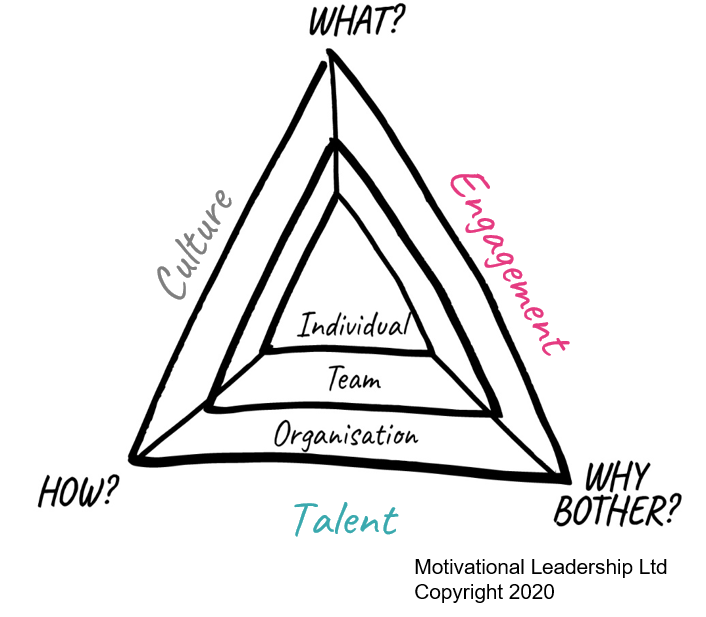 We look at the fit between what culture an organisation wants to develop and the motivational drivers of its people. In doing so, we create clarity on what the culture will look like in a practical language which everyone will understand, no matter what position or level they are.
We also align the efforts and energy of each person within the organisation to achieve this desired culture change. We do this, bluntly, by showing people 'what's in it for them'. We align each person's motivations with the purpose of the organisation and explore ways in which we can encourage people to develop and demonstrate the desired behaviours in a deliberate way. To find out more about how we do this, using our CREATE Motivation model, click here.
Within our programmes we help individuals to:
Understand what their own individual motivations are and how they can use these in the right way to harness a collective motivation;

Understand what is driving their culture and why they have the culture they do;

Help individuals understand why and how they can change or align their behaviours to that what will deliver success in the organisation;

Help bring about and sustain behavioural changes to create a cultural shift.
Results organisations can expect from this approach include:
A more cohesive team environment;

Reduced staff turnover;

Reduced spend on recruitment;

Increased staff retention;

Better employee engagement;

A narrative that you can tell to both existing and new staff, alongside clients and prospects about what you stand for;

A more energised team all pulling in the same direction.