Leadership is changing
The world is crying out for compassionate leadership. It is looking for vulnerability in our leaders and for them to lead from a place of learning and not from a place of knowing (no-one likes a 'know it all'!). We see successful leaders as those who support and challenge those around them so everyone can rise up together and so ensure that leadership is not just the preserve of the few, but seen in the actions of the many. And when we do this, our performance increases and we all succeed.
Kate Turner, our Founder, describes leadership as:
"the daily practice of taking responsibility for oneself, showing up fully and continuing to grow, whilst enabling others to do the same" (from CREATE Motivation - Unlock the leader within)
Leadership is a deliberate practice; in every task and every interaction we have to choose to be the leader the world is looking for. And that's hard. Leadership is about celebrating, encouraging and including different styles and different approaches. Its about recognising we don't have all the answers, but together we can find the answers - and come up with even better ones than we would on our own. It is about co-creating our future. It is about sharing success and ensuring we all get over the winning line together.
Never before has there been a more important time to get leadership right.
At Motivational Leadership we combine our own methodologies and tools with Liberating Leadership® a proven and award-winning approach to leading and developing high performance. The Liberating Leadership® process is based on 25 years of research and testing and includes tools, which together, act as a blueprint for managing people.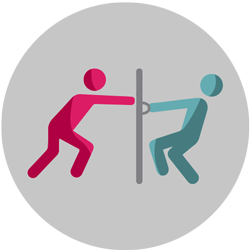 Our practical programme enables leaders to move from a transactional push style of leadership to a transformational pull style. This is a style which will deliver sustainable improvements to the bottom-line. Leaders will learn how to connect their self-awareness to the impact they have on their organisation.
Book a call with us today to discuss your needs.
Leaders participating in this programme will:
Be shown how to develop the mindset of a high-performance leader;

Build vital skills to deliver better business performance through people;

Understand how to harness the natural drive and motivations of their team in a sustainable way;

be able to lead teams through change with compassion and confidence.